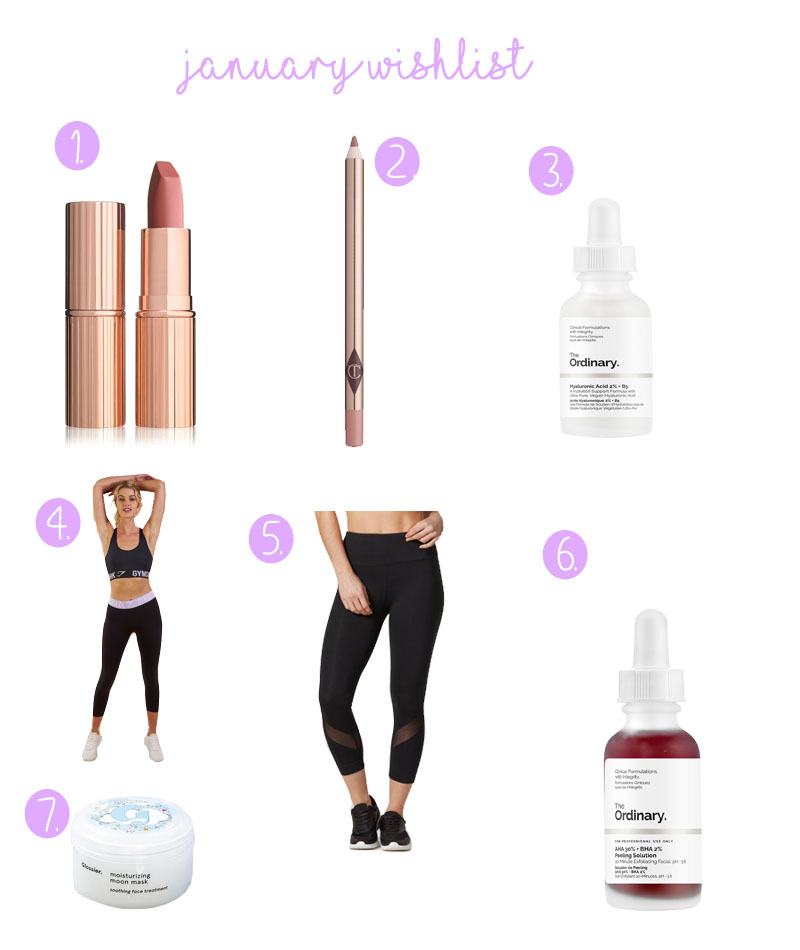 It's January and although everyone including myself is skint I can't help but lust after some new goodies (and maybe enable you guys a little bit!). There's a whole host of new brands and products I'm yet to try, so I've put together a few items that will be topping my list once payday rolls around.
I've got to confess now, I've never tried anything by Charlotte Tilbury, which is like a beauty blogging crime or something, but truth be told I've had things on my list I've just never gotten around to buying them. I'm really eager however to try the much loved Matte Revolution Lipstick in Pillow Talk (1) and I couldn't pick up the lipstick without getting the Lip Cheat Pillow Talk lip liner (2) to go with it.
Although I've got my skincare routine pretty much down to a tee, I do always like trying out new products. I've been looking for a hydrating face mask to compliment my Origins Drink Up Intensive Mask, and I've heard reasonably good things about the Glossier Moisturising Moon Mask (7). I've not tried anything yet by Glossier so it might be a good way of dipping my toe into the water.
Another brand that I've yet to try but heard great things about is The Ordinary. I was instantly captivated by how reasonably priced they were and the concentration of active ingredients in their products. There's obviously quite a few items on my list but the top two I'm eager to try is the AHA 30% + BHA 2% peeling solution (6). I already use an AHA and BHA product separately but I'm intrigued to try something that is a 2 in 1 sort of thing. It could be a real time saver! The other is the Hyaluronic Acid 2% + B5 (3). I love my Caudalie Vinosource SOS Serum but it's rather pricey and if I could find something similar for cheaper, well that'd be dandy!
I'd already mentioned in my New Year post that I wanted to carry on working out and taking up yoga, so I've been looking for some more workout leggings.
I've opted for these Gymshark cropped leggings (4) as I've read full length are usually quite long and being a short girl thats no good for me. I also really like the look of these MyProtein Heartbeat 7/8 leggings (5) and being squat proof I don't have to worry about the dreaded see through effect at the gym.
What are you lusting after this January?