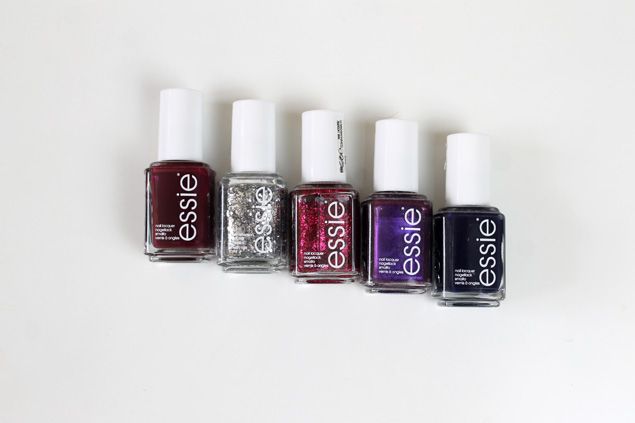 If you're a regular reader of my blog, you'll know I'm a big fan of Essie nail polishes. From the budget price tag to the wide brush they are just a winner in my eyes, so I've put together my favourite Essie polishes that I'll be rocking this Winter, especially during the festive season when I become a bit of a glitter fiend…
Dark sultry shades are a Winter winner for me so After School Boy Blazer fits the bill perfectly. It's a deep midnight blue, perfect for those who run shy of black nail polishes but love the sophistication they bring. As I grabbed this last Autumn, it may be a little tricky to get your hands on but I believe Space NK are selling it, so hop on over there…
I've been raving about Sole Mate for the last few weeks so it was no surprise this would be on the list. I've said many times previously it's a gorgeous wine coloured nail polish which would also look fabulous come Christmas time if you're not into the kitsch glitter thing.
Leading Lady is a polish I've had for a couple of years now and it is still one of my go to shades around Winter. It's a gorgeously festive glittery red that looks stunning on the nails. Again, this was limited edition but I've seen a couple of sellers on Amazon if you really must have it!
Purple is my favourite colour so it was inevitable there was going to be an amethyst offering in this post and Sexy Divide doesn't disappoint. It's a beautiful deep iridescent violet colour that catches the light wonderfully.
Set in Stones isn't really a polish to wear on it's own but layered on top of others it adds a touch of seasonal sparkle with different sized glitter pieces which will be perfect for the upcoming party season, or if you're just feeling like a bit of glitter to cheer you up on those dark days.
What are your go to winter nail polishes, from Essie or other brands?