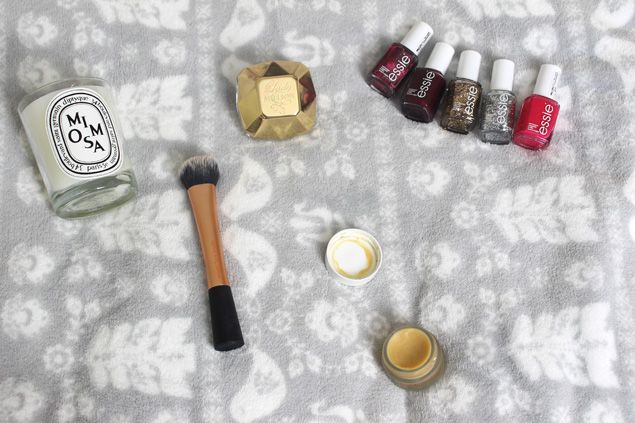 The last of my beauty favourites for 2014 and this post is all about the products that I couldn't group into the other categories- nails, perfumes, candles…all that jazz.
Diptyque Mimosa Candle
The newest addition to my favourites having only bought this just after Christmas, but the smell is so divine I couldn't not include it. Yes Diptyque candles are extortionately expensive, but shockingly enough Selfridges boxing day sale included these candles and I got a cool £8 off. Not too shabby!
Lady Million Perfume
This isn't technically a new favourite as I've had this for well over a year but I've recently been enjoying wearing it again and it's one of my daily go to perfumes. So much so I've run out now and had to repurchase. The sign of a really good perfume in my eyes.
Essie Nail Polishes
There have been how many Essie nail polishes featured on my blog this year? My love affair with this brand has continued with several new additions to my collection this year. My favourite? it's hard to choose but I'd definitely recommend getting your mitts on Sole Mate.
Nuxe Reve de Miel Lip balm
I've banged on about this lip balm so much this year that of course it was going to be in my favourites for 2014. This is my absolute favourite lip balm – nourishing, matte and long lasting. If you haven't got this yet I honestly recommend you do!
Real Techniques Expert Face Brush
This brush has probably been one of my favourite new brushes this year. It's super soft and packs on a little more coverage than my buffing brush so when I want an extra flawless day this is my go to weapon of choice.