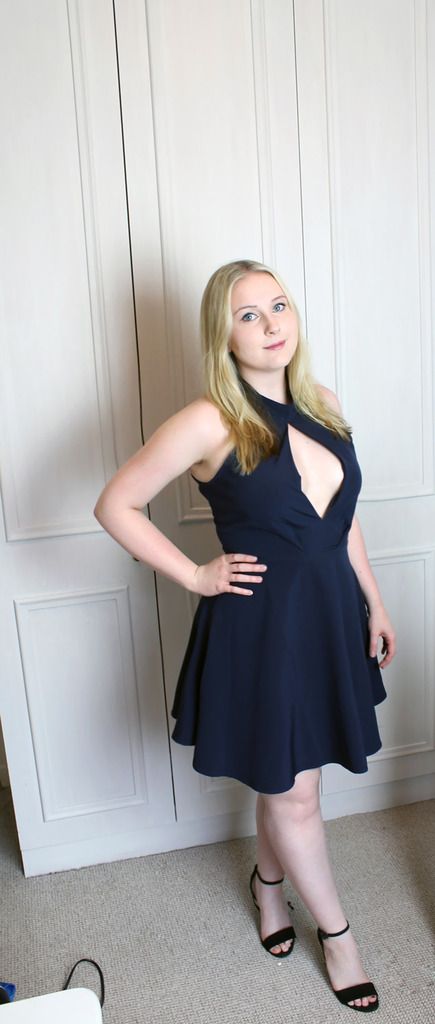 Luxemme Maelee Sleeveless High Neck Skater Dress – £35*
Heeled Sandals – New Look (similar here)
I've been sitting on this one for a couple of weeks now, as I've been so busy and the November weather has not been kind – in fact in the end I've had to do this in my little house – but I thought as it's the Christmas party season coming up and everyone will be looking for a new outfit, it would definitely be time to showcase this gorgeous skater dress I was sent courtesy of Luxemme.
When I received the dress I was really impressed. The material feels really good quality like it's not going to get a hole in it after one wash and it's definitely not thin, it even feels better quality than the likes of Topshop, Missguided et al where you'd pay a similar amount or more for the same dress. Their sizing is also generous too as I have been indulging in cake a little too much lately so I was worried it might be too tight but it was actually on the big side!
The only thing I would say about this dress personally, is as a petite person it dips a little low and also the the neck is a little loose, which I think, is down to the fact I'm so small so I will be altering it a little just to tighten it up a bit. However if you're not the height of a small child it'll definitely be a good fit.
If you're on the hunt for a party dress for Christmas, I definitely recommend you take a look at Luxemme as I'm sure you'd find something for the occasion. I know I'll definitely be wearing this to my work's do this year, teamed with these New Look Heeled Sandals as they are just the comfiest shoes ever!