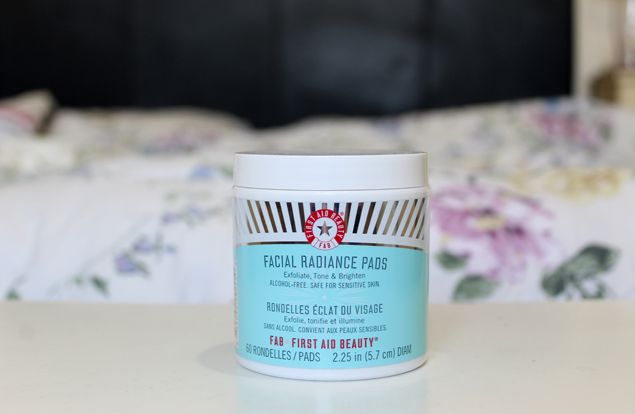 First Aid Beauty Facial Radiance Pads – £22
Looking for an AHA containing exfoliant that won't burn your face off? Can't be bothered with faffing about with cotton pads and spilling liquid everywhere? You might want to check out these travel friendly, budget friendly, little rounds of presoaked goodness…
I'm a big fan of chemical exfoliants, I've made no bones about that, and I've heard lots of murmurings in the beauty world about the First Aid Beauty Facial Radiance Pads, so during one of BeautyBay's sales earlier in the month I decided to take the plunge and pick them up.
First Aid Beauty claim that contain just the right amount of lactic and glycolic acids to make them safe and effective for daily use. I do like that they're pre-soaked and come in a tub as it makes it very travel friendly, I'm not trying to count out how many cotton pads I'll need while I'm away and a big bottle of Alpha H Liquid Gold to boot. I also like that these are gentle enough to be used at night and morning, although I find that it does leave a slight sticky film on my skin so I tend to leave them to just night time use.
Ok so I might have misled you with the budget friendly aspect, as to many of you £22 is definitely not budget. But let's put things into perspective – Chemical exfoliants are not cheap! Liquid Gold is £33.50 for 100ml, so in fact these are probably some of the cheapest you will find on the market. Plus you get 60 rounds in a pot so it's a fair amount for the price – 36p a pad.
The only thing I'm a little disappointed with, and perhaps I should have read the description before jumping in and purchasing them, is that there is no tingle whatsoever. I do love the feeling of my skin tingling, I feel like it's really getting to work. However if you have very sensitive skin that can't really deal with AHA's or you're looking to try chemical exfoliants then these would be a good option for dipping your toe into the water, they're very gentle so perfect to try!
They're not quite as good as my Alpha H Liquid Gold, but I think I will repurchase as they're so convenient especially if I'm going away. They're also pretty good if you're new to the exfoliant world and have sensitive skin.