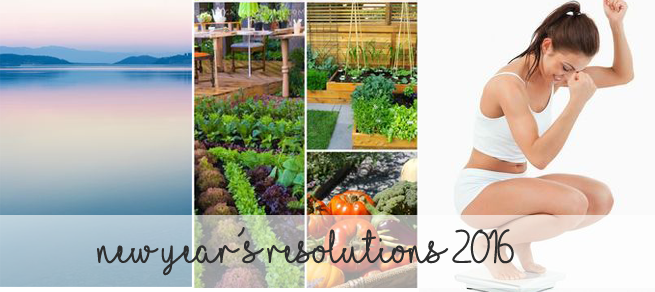 Happy New Year everyone! Hope you had a lovely Christmas and welcome to my first post of 2016. I've had a little break over Christmas and I'm back ready and raring to go.
Now I know resolutions posts are controversial, a lot of people think that it's a lot of bull


However I see it more like personal targets I'd like to achieve in the upcoming year. With this in mind, I've got a fair few for 2016:
Lose Weight
Ah the good old lose weight resolution. This last year however I've put on a lot of weight and I'm at my heaviest I've been since I was about 16 and I'm really not comfortable with this. I'm going to get back to the gym properly and eat better, which means turning down all the chocolates and cream cakes at work – sob!
Try A New Restaurant Every Month
I've made no secret of my love for food and eating out, but I'm finding Harry and I are eating at a lot of the same places and there's so many more we keep meaning to try and keep forgetting, so this year I'd like to try a new restaurant each month.
Do Less
Doing less might sound contrary to my earlier resolution of working out more in order to lose weight, but I mean generally in life. This year I've bought a new house, bought a new car, adopted two little kitties and got a new job- Phew! I've been extremely busy, almost to the point of burnout running around trying to please other people and quite frankly, I'd like a break. I want to take a backseat in 2016 and chill out a bit, enjoy more me time and stop and smell the flowers.
Be More Self Sufficient
Sounds a strange one but I've really gotten into gardening – I'm 24 not 64 I promise – but now that I have a bigger garden I really want to grow more of my own food. I've grown tomatoes successfully for the last 3 years, my herb pots haven't died and I've got a rhubarb that's looking promising. This year I'd like to grow things I buy quite a lot of such as potatoes, strawberries, raspberries, blueberries, cabbage, onions and garlic. Also I've found gardening is really therapeutic. When you get outside and it's quiet and you can just take a moment and reflect in an otherwise hectic life it's really quite nice.
Use Things Up
This goal is to address two main problems I have – wasting and hoarding! I'd love to reduce the amount of food we waste as I feel terribly guilty for throwing it away, plus it is ultimately wasting money as well. Also I must have enough beauty bumf to stock your local Boots. All it's doing is sitting there going out of date so this year I want to use it up…I can always buy more!
Visit New Places
I've traveled relatively little, and there's so many places I'd love to see. Although I don't have a lot of money, I'm hoping we can save hard this year and visit some new places.
I hope 2016 takes me in some interesting new directions. I look forward to seeing what happens and I hope you all come along for the journey too!
Have you got any goals or plans for 2016?