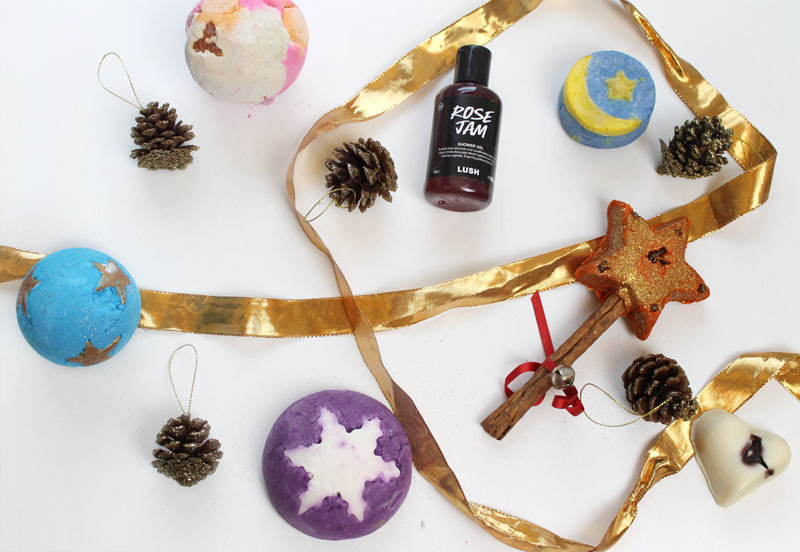 I love using Lush products any time of the year but even more so at Christmas. I think one of the highlights is going looking through the seasonal ranges. I've put together a few of my favourite picks which I definitely recommend you grab this Christmas.
Luxury Lush Pud – £4.50
I've seen this one for the last few years now, but I've never tried Luxury Lush Pud and I'm not sure why as it shares its scent with Twilight, which is my absolute favourite. Combining lavender and tonka it creates the most beautiful display in the bath before sending you off to the land of nod, dreaming of santa before you can say Ho Ho Ho!
Lush Rose Jam Shower Gel – £5.50
Along with Twilight, Rose Jam is one of my absolute favourite Lush scents. It's a perfect balance between sweet and floral, rather like Turkish Delight. Although it's part of the normal range rather than seasonal it's definitely one to try if you haven't yet. It also comes in bottles of 250g and 500g.
Lush Plum Snow Bubble Bar – £5.95
Plum Snow is a new one for 2017 as soon as I picked this up in store I was instantly captivated by it. It's got a fruity, mulled drink scent which immediately makes me think of hot drinks on a cold winter night. It's a really decent size too so there's at least a few of uses in there.
Lush Christmas Eve Bubble Bar – £3.95
I was slightly disappointed they redesigned the Christmas Eve bubble bar this year as I preferred the old design and I felt you got more bang for your buck. Having said that this is is a lovely bubble bar. It's not traditionally Christmas scented, but more of a luxurious, opulent scent of jasmine and ylang ylang. It really comes alive when in the bath, so don't be put off by it in the shop.
Lush Shoot for The Stars Bath Bomb – £4.50
I've never tried Shoot for the Stars before, but after taking one sniff it was definitely up my street. Sharing its scent with the Honey I Washed the Kids range it combines orange and bergamot with cocoa butter to create a sweet warming bath bomb without being too sickly. Along with Plum Snow I think this is one of the best ones I've picked up this year.
Lush The Magic of Christmas – £5.95
The Magic of Christmas has been a seasonal addition for a couple of years now. It's a reusable bubble bar so you could use several times over the Christmas period for lots of festive filled bath times. It typically embodies all the familiar scents of Christmas, packed with cinnamon and clove and just a hint of marzipan, this is one to definitely get you in the mood.
Lush Soft Coeur Massage Bar – £4.95
Again Soft Coeur is not part of the Christmas range per say, but I had to include it as it's one of my favourite massage bars. It smells deliciously like white chocolate and is wonderfully moisturising on the skin.
What are your favourite Lush products from the range?