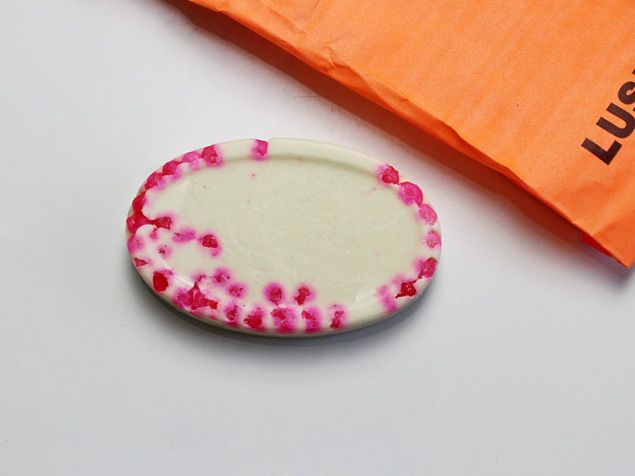 Lush Pearl Massage bar – £6.50
When Lush started doing massage bars they definitely caught my eye. I love Lush and I like getting back rubs from Harry as often I get quite bad back and shoulder pain (particularly if I've been carrying my handbag around). I find oil can be quite greasy and therefore make my hair greasy too, but having a massage on dry skin is really painful, so I decided to pop into one of Lush's stores and check them out.
They have quite a few different ones but the one I opted for was Pearl. It contains shea butter, rose and argan oil and has little sago bubbles to help boost circulation which I found was really nice on my back.
I also opted for Pearl because of the smell. Whilst I'm not a massive fan of rose scented products as they can be quite overwhelming, this is subtle and also smells of white chocolate which is yummy.
It's so soft and melts in the heat of your hand so you don't need to warm it up before using. Afterwards your skin is moisturised but not greasy, although I always make sure my hair is tied up.
I really like this and I'll definitely be buying it again. I think I'll also be trying out the Wiccy Magic Muscles one as that sounds right up my street.