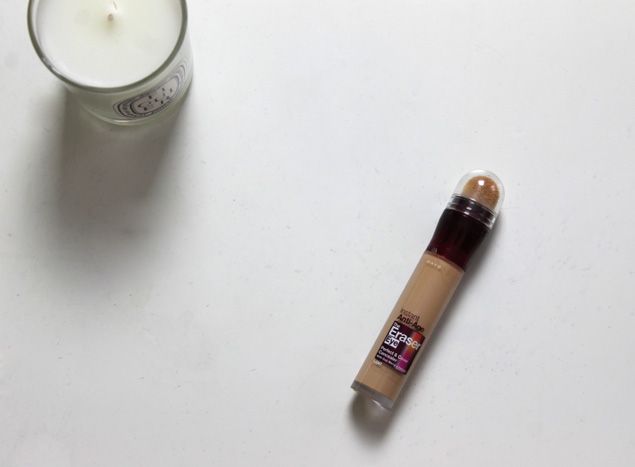 Maybelline – £7.99
At first I was a little unsure about the Maybelline Eraser Eye Concealer. Despite reading rave reviews from just about everybody around I couldn't quite jump on the bandwagon…until now.
First thing, it does have its faults don't get me wrong so it's not going to be a complete rave review, but the benefits definitely outweigh the drawbacks.
It comes in a small tube with a sponge applicator on the end and you twist the product until it comes through the sponge. It's yellow toned, which helps counteract those dark blue under eye circles. The formula is a little on the thin side I feel, so if you have quite prominent circles then it might not work for you, but for me it's just the ticket. Also the formulation works in it's favour as it doesn't crease or sink into any lines like some other thicker concealers I've used.
I think my favourite part of this concealer is the sponge. Now I've heard a lot of people say it's not the most hygienic of applications, which I suppose I can agree with, but as I only use it under my eyes I haven't had any problems. The reason I like the sponge though is because it's feels like a mini massage when you use it which is most definitely needed when you're seriously lacking on sleep.
One of my only issues with it is it's a little bit dark for me, I can make it work but I wish it was a little bit lighter, especially as it's meant to be the lightest shade, sort it out Maybelline!
Another is the twist application- sometimes you feel like you're twisting for ages and nothing is coming out – and other times you twist it once or twice and a big yellow blob comes out.
I had a bit of a rocky start with the Eraser Eye Concealer but I've really warmed to it and I love reaching for that little bottle in the morning to give my under eyes a little massage as I conceal. I wish it was a little bit lighter but overall, a nifty little concealer that's definitely worth picking up.