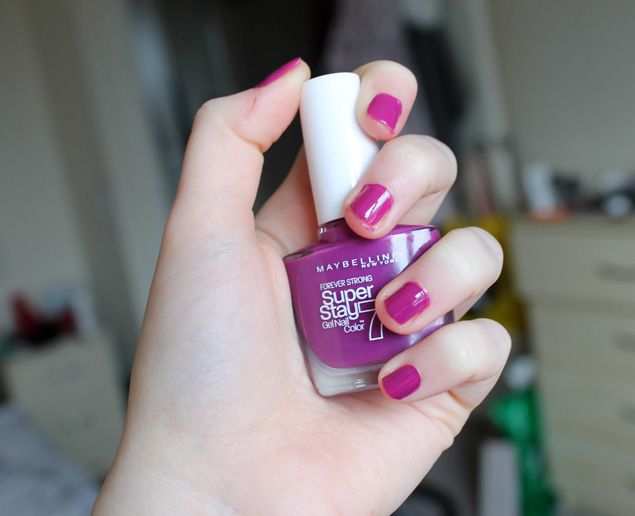 Maybelline Forever Strong Nail Polish – £4.49
I've really been getting back into my budget beauty buys recently, probably because so many quality products are popping up at the moment. One such product is the Maybelline Forever Strong Nail Polish. I've heard Amelia go on and on about these nail polishes and it got to the point where I said to myself "girl you have got to try these out". I picked up the colour Berry Stain for two reasons- one, I love purple and two, that particular colour was on offer.
It's got a nice fairly wide brush and goes on easily. It's also fairly quick drying and as it's a gel nail colour, leaves a nice glossy high shine finish. In terms of living up to it's 7 day claims, I tried it with two coats and no topcoat. I did notice some chipping after a couple of days – mainly on my right hand – which is probably due to the fact it's my dominant hand. However the left hand remained intact, only showing minimal signs of tipwear after four days.
I'm actually really impressed in all honesty, it lasted longer than my usual polish without a topcoat so I imagine it's staying power would be far greater with one. In terms of the actual chips themselves they're not that bad and my nail polish definitely isn't peeled off half my nail by the end of the week.
Ok so it might not last the full seven days, but I am actually quite impressed with this polish. It definitely lasts longer than most polishes I've tried before even without a topcoat and I've been pushing my beloved Essie polishes to one side for this so I may have to pick up a few more colours.