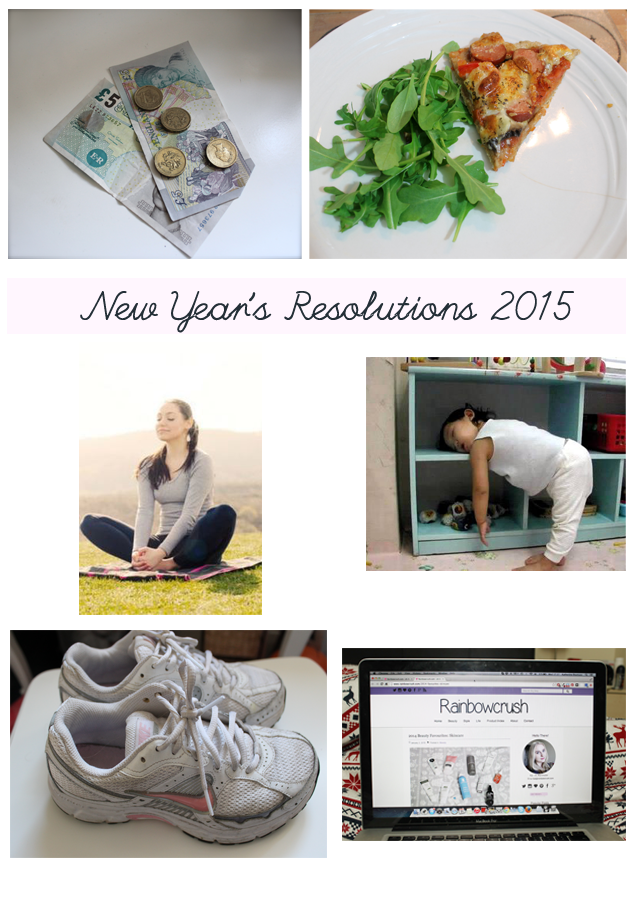 Happy New Year everyone! I hope you all had a lovely 2014 and are excited for what the new year will bring.
Some people think New Years resolutions are stupid and you're likely to give up by the end of January, but I like to see them as goals for the year ahead. There's no doubt last year was tough but I'm not going to moan or dwell on it too much, after all that's what a New Year is about – a fresh start. With that in mind, here's my resolutions for 2015.
1. Be more mindful
I haven't spoken about my issues too much, but I was diagnosed with anxiety last year and I'm currently receiving treatment. I would like to be more mindful and practice mindfulness more this year in order to combat my anxiety and keep it under control.
2. Save Money
This was a goal last year but I'd really like to achieve it this year. I'd like to buy lots of expensive things this year like a new laptop and a new car so I really need to stop frittering my money away.
3. Sleep Properly
My bizarre sleeping habits are linked to my anxiety which I am getting under control and as a result a full nights sleep is becoming more of a regular occurrence rather than a rare one. My sleeplessness though impacts my life and as such I spend a lot of time sleeping when I shouldn't be, like weekends and when I get home from work. I'd like to stop this so I can get more done.
4. Lose Weight
It's likely to be an ongoing struggle but I really would like to lose 6-7lbs this year and keep it off.
5. Cook More
I love cooking don't get me wrong, but exhaustion, a full time job and a freezer full of food means often I can't be bothered to cook and instead order takeaway or go out for dinner. I'd really like to reduce the amount of times we go out for dinner. I think this will also help with the aforementioned weight loss.
Blog Resolutions
I have really enjoyed blogging this last year and learnt so much, so I've thought of some blogging goals which I would like to achieve in 2015 as well as personal goals.
1. Grow my followers
My blog is still small, but I'm really proud of what I have achieved this last year and with that in mind I'd like the growth to continue. I don't really have a figure in mind I just want to see where this year takes me.
2. Blog More
Currently I post 4 times a week, or 5 if I have a recipe. I'd like to make Wednesday posts a regular thing and at least one sunday recipe a month. It's quite difficult to do recipe posts as often baking takes twice as long when you have to photograph it all, but I'd really like to make them more than once in a blue moon thing.
3. Get into Youtube videos
I'd really like to start filming some videos, it wouldn't be a very regular thing as I don't have time, but once a month perhaps would be nice.
4. Take more photos
It might sounds strange as there are photos in every blog post, but I'd like to take more of my face as it's not often that I can be bothered so foundation and lipstick posts get put on the back burner. I'd like to motivate myself enough to wash my hair and put makeup on so I can take more pictures and ultimately vary my posts more.
Those are my goals this year and I feel like I can achieve these if I try. I'm feeling happy and confident about what this year will bring.
Have you made any New Year's resolutions?