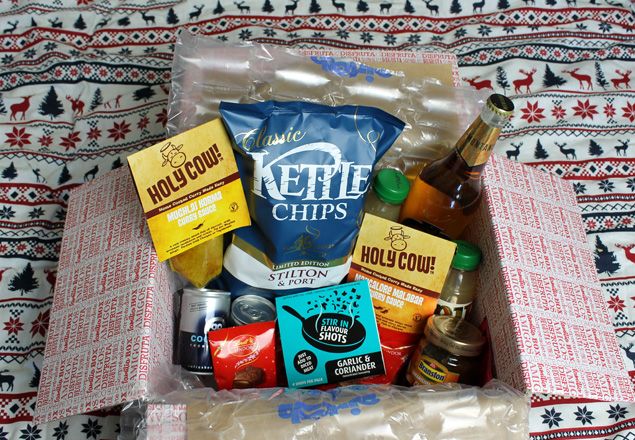 This month's Degustabox is a slightly more Christmassy themed box, in that I feel it contains more seasonal products you would indulge in over the Christmas period. As it was the last box before Christmas, I couldn't help but join in with the festivities and snap a picture on my new Christmas fair isle bedding. I was, on the whole happy with my box that I received and here's what I got:
Kettle Chips- Stilton and Port Flavour
I was very excited to see these in my box. Port and Stilton is one of my favourite combinations so to get these in a crisp sounded fabulous. I was slightly disappointed with these however as they weren't as cheesy as I was expecting and Harry thought the same. Perhaps we just like really strong cheese flavours but I don't think I'd buy these again.
Cool Dawn Recovery drink
When I first saw these I wasn't sure about this addition to my box as I don't drink caffeine and I don't like energy drinks, but upon closer inspection I saw that these weren't energy drinks but herbal detox drinks that help prevent and cure hangovers. They contain no stimulants and aren't carbonated and contain yuzu juice and other healthy ingredients. I really want to try these out but I'm saving them for when I've had one too many vodka soda's and these are perfect for the upcoming party season when people tend to overindulge.
Lindt Lindor My Melting Moment
I love Lindt chocolate so I was pleased to see this in my box, although I was a little surprised to see five! However they were tasty nonetheless and I have to admit I've already demolished the lot #sorrynotsorry.
Kent's Kitchen
Having received a curry kit from this brand in last month's Degustabox I'd heard of them before. There were four flavours to choose from and I received Garlic and Coriander which I'm pleased with as I think it's more versatile than perhaps fajita or BBQ seasoning and I'm looking forward to giving these a go.
Branston Caramelised Onion Chutney
For years I've been averse to Branston Pickle but I've recently come back around to it, so I would have been pleased even if it'd been regular Branston Pickle but as it's a caramelised onion chutney it's something a bit different and I will be saving for Christmas to put on my cheese and crackers.
Pip Organic Juice Drinks
I really like getting drinks in my Degustabox so I was happy to see these Pip organic apple juice drinks in my box. I drank both of these in one go one thirsty afternoon at the weekend and they were good, but at £1.50 a bottle I'm not sure I'd repurchase. I'm not big on drinking juice on a regular basis because of the sugar but it was a nice treat and lovely to try something new.
Montano Cider
I've never tried an Italian cider before so I was excited at the prospect of this Montano cider. I did enjoy it and polished this off in a couple of sittings. I did offer some to Harry but he didn't want any, stating that he didn't think cider would be something the Italians did well. However I enjoyed it, it's drier than other ciders such as Stella Artois Cidre and Kopparberg but delicious nonetheless.
Holy Cow Indian Curries
Although these were different to the curry kit I received last month I was a little disappointed to see I'd got something curry related again this month, especially as I'm not a big fan of curry. I received a korma and malabar which are both not too spicy so these will get used eventually and they are gluten free and contain natural ingredients. In all honesty though I won't be repurchasing, purely because I don't eat curry very often and also I tend to make curry's with curry paste which I don't think has anything nasty in it anyway and is cheaper!
I'm pleased with my box this month, it's very apt for the festive season with festive treats and drinks to help you when you've overindulged, although I feel like I've not received as much this month and I've got some similar things to last month with the Kent's Kitchen brand and also the curry sauces.