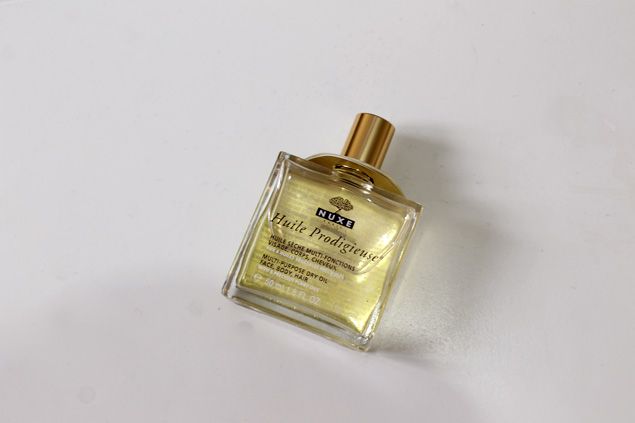 Nuxe Huile Prodigieuse Multi Usage Dry Oil – £17.00
After hearing so many bloggers raving about how much they loved Nuxe Huile Prodigieuse Multi Usage Dry Oil I had to pick it up. There was one slight issue however- I hate body oils. I hate the greasy feeling and the residue that's left on your skin so your clothes stick to you and every body part is just tacky.
Despite the minor issue of me hating body oils I decided to take the plunge as it's marketed as a dry oil containing a formulation of six precious plant oils and vitamin E, leaving your skin and hair soft, nourished and repaired.
With the glass bottle and the pale golden coloured oil it makes it feel very luxurious sat on your dresser. It has a lovely light scent, it's soft warm and floral and just reminds you of summer so if you're feeling a bit blue about all this cold weather a couple of whiffs of this should have you picturing hot days in the park and lying on a beach. Bliss!
The best bit is – as I mentioned before – it's a dry oil so it doesn't actually sit on your skin or leave any residue it's absorbed in seconds leaving just softness and that wonderful scent. It's also remarkably light so I can use it to nourish my hair and face as well as my body. At £17 it may sound fairly expensive but a little goes a long way so I think it'll be a long time before I finish the bottle!
Despite the fact I hate body oils and I think that will never change, I love the Nuxe Huile Prodigieuse Multi Usage Dry Oil. It's absorbed quickly leaving my skin feel completely soft and nourished and leaves a wonderful light scent. It definitely lives up to it's name of multi-usage as it's lightness means there are so many uses for it. If you're a fellow body oil hater I whole heartedly recommend this it's fantastic and completely different to any other body oil product I've tried.