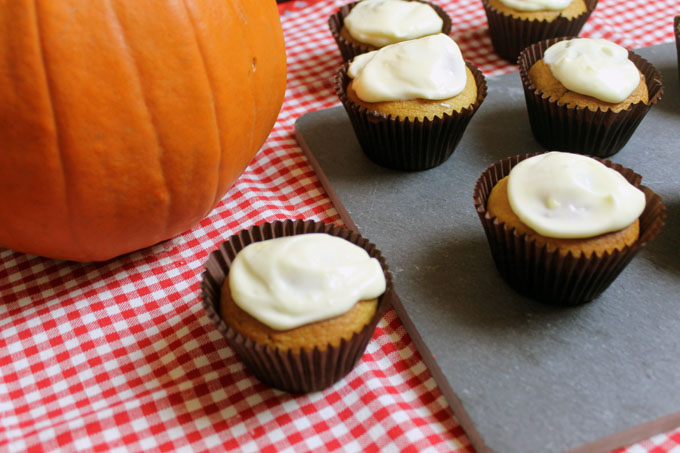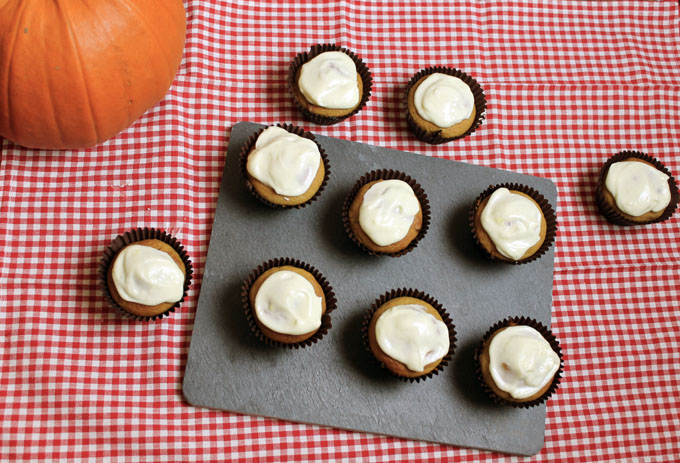 Around Halloween it's inevitable that I end up with a fair amount of leftover pumpkin, and rather than create a soup or a Pumpkin Pie, I decided this year to branch out and create some different recipes.
I've already posted my Sausage and Pumpkin Traybake, so here's a little sweet treat based on that delicious orange vegetable.
I wanted to try something a little different to the traditional pumpkin spice flavours so I decided for a pairing of ginger and pumpkin as they go so well together and I added the walnuts for a little crunch, which I suppose is a bit like a twist on a carrot cake recipe.
This one took a little perfecting as pumpkin is quite moist but the result is a deliciously moist muffin.
Full fat soft cheese should be used for the icing as it contains less water than its low fat counterparts, otherwise you could end up with a very runny icing.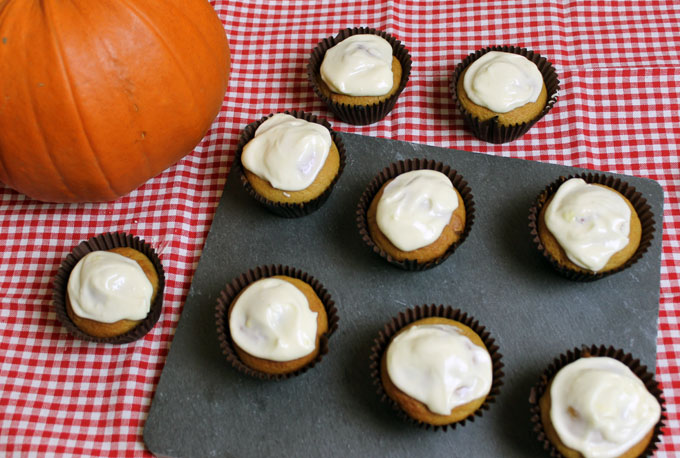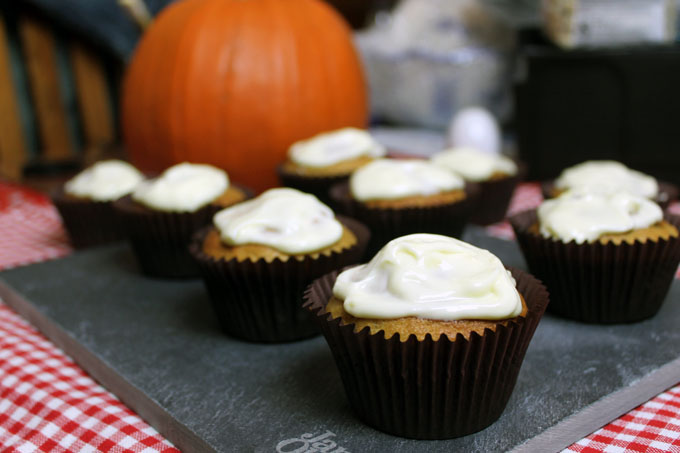 Pumpkin, Ginger and Walnut Muffins
Ingredients
2 large eggs
250g pumpkin puree
1 tsp ginger
½ tsp cinnamon
¾ tsp baking powder
100g caster sugar
100g soft dark brown sugar
100ml vegetable oil
225g self raising flour
50g walnut pieces
For the icing
100g full fat soft cheese
100g icing sugar
40g softened butter
Instructions
Preheat the oven to Gas Mark 5/190C. Line a 12-hole muffin tin with paper cases.
Beat the eggs and sugar together until smooth, then add the oil and pumpkin puree.
In another bowl add the flour, baking powder and spices.
Pour the wet ingredients into the dry and combine.
Add the walnut pieces and stir well.
Spoon into the cases and bake in the oven for 20-25 minutes until a skewer inserted into the centre of a muffin comes out clean.
Leave the muffins to cool on a wire tray.
Meanwhile beat the softened butter and icing sugar until smooth then add in the soft cheese and mix well.
Once the muffins are cool spread the icing over the tops of the muffins.