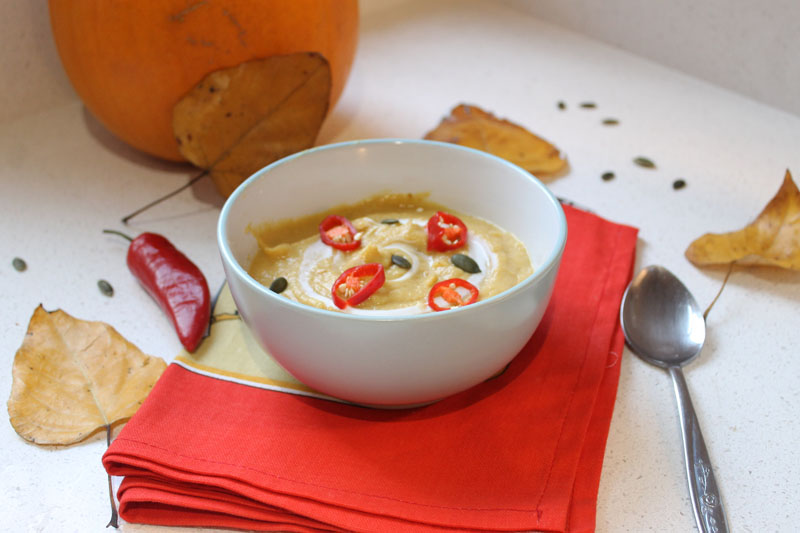 For years now I've been experimenting with pumpkin soups as a way to use up all that leftover pumpkin after Halloween but I've always been decidedly unsatisfied with the result. I find that – like butternut squash – pumpkin is such a sweet vegetable and the slight sweetness it brings is a flavour I'm not a fan of.
This Autumn however, I've been eating a lot of lentils so I decided to add them to the mix and boy am I on to a winner. They balance out the sweetness of the pumpkin brilliantly and offer a filling hit of protein and fibre. I also added some cumin and chilli which also balances out the sweetness and adds a warming kick which is essential to take away the wintery chill.
I've used leftover pumpkin in this recipe that I pre-roasted but puree can be used or alternatively just peel (it's difficult) and chop up a fresh pumpkin into small equal chunks and add them to the soup.
This recipe is also completely vegan (omitting the yoghurt garnish) and gluten free so is a perfect to serve to your guests as a winter warmer!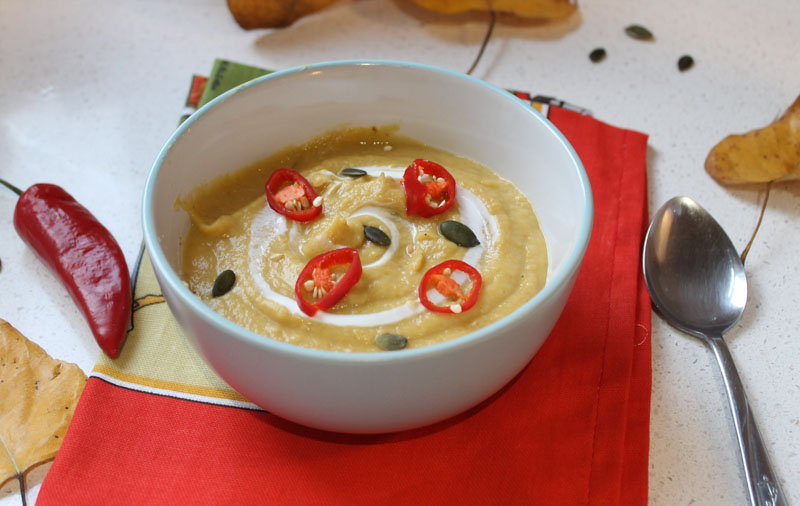 Spicy Pumpkin and Lentil Soup
Ingredients
250g cooked pumpkin or pumpkin puree
1 large onion sliced
2 cloves garlic
1 vegetable stock cube
150g lentils
1 tsp chilli flakes
1 tsp cumin
To garnish
fresh chopped chilli
yoghurt
pumpkin seeds
Instructions
Slice the onion and soften in a pan with a little oil.
Once the onions are softened, slice the garlic roughly and add to the pan cooking for about a minute.
Add the pumpkin, lentils, vegetable stock cube and enough water to cover.
Add the cumin and chilli flakes then season with salt and pepper.
Bring to the boil and simmer for 20 minutes, adding more water if necessary
Blitz using a hand blender and serve with fresh yoghurt and chilli