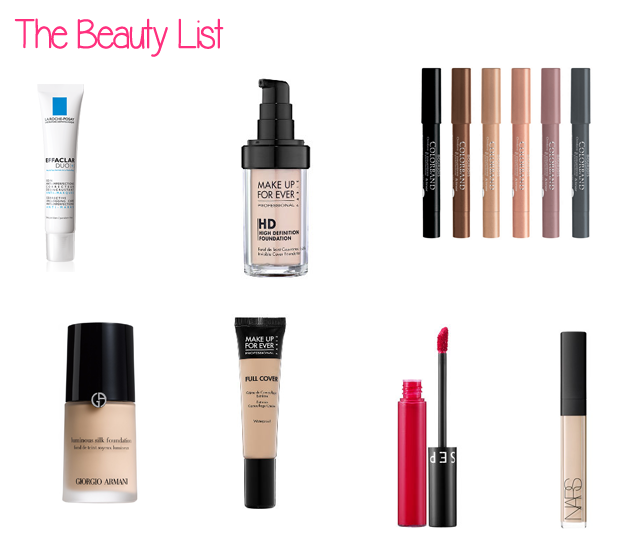 I cannot believe how fast February has come around, and indeed my birthday which is this weekend! I've combined this month's beauty list with my birthday list of things I'm hoping to treat myself to this month. It is a little bit of a boring list – or at least I think so – but I'm pretty happy with my skincare routine at the moment and I've not seen many things that have really made me want to pick them up so a lot are just repurchases I'm afraid.
La Roche-Posay Effaclar Duo+
This isn't a new purchase, as I originally tried this back in September, but I'm coming to the end of my tube and I couldn't possibly be without it so I definitely need to pick another tube up this month. You've probably heard lots of really good things about it from many other sources, but if you want to know how much I love this then check out my thoughts on La Roche-Posay Effaclar Duo + in my original review.
Make Up For Ever HD Foundation
Yep! Another repurchase, in fact I probably still have quite a lot left, but it is one of my absolute favourite foundations and I couldn't bear to be without it. I've heard that Debenhams will be stocking MUFE soon and I've got a few gift cards so I think I'll definitely be spending some serious moolah at the MUFE counter when it finally does arrive.
Bourjois Colorband Crayons
This is probably one of the only new releases that I'm genuinely quite excited to try out. I love eye crayons and I love Bourjois so it's a no brainer really! I've definitely got my eye on them all, aside from the black and the grey, but the pink and purple ones have really caught my eye! Watch out for a review soon of those I really hope they live up to the hype.
Giorgio Armani Luminous Silk Foundation
Isn't it funny how you start running out of all your foundations at the same time? Like the MUFE foundation I have currently got a bottle of this, although there is a considerable amount less in this, with the telltale signs of pumping air out along with the foundation and it making that horrible stomach churning noise that you know means it's nearly all gone and you'll have to shell out another thirty odd quid for a bottle.
Make Up For Ever Full Coverage Concealer
After falling seriously in love with Make Up For Ever as a brand, I am now itching to try out some more products and top of the list is this concealer. I must have about a million on the go but I cannot help but lust after this concealer too.
Sephora Cream lip Stain
Every blogger under the sun is raving about these lip stains and I've not really bought into the whole lip stain mainly because I really don't like drying lip products, but I've heard how comfortable these creamy lipsticks are and I want to try one out.
Nars Radiant Creamy Concealer
I've spoken of my love for Nars Creamy Concealer before and I'm just about coming to the end of my tube now. It's got to the point where I shove the applicator in at an angle in a feeble attempt to get any remainder of concealer from the sides of the tube. I will definitely be repurchasing this as I can tell I will be lost without it in my makeup bag.
What's on your beauty lust list this month?
Have you tried any of these products?