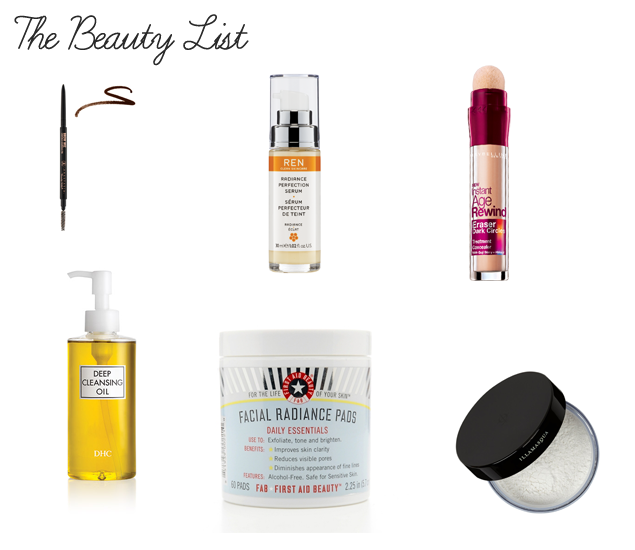 The Beauty List is an old feature with a brand spanking new name, which I think is pretty nifty if I do say so myself *pats self on back*. It's basically a lust list of what I'm currently coveting this month. I mentioned in my New Year's Resolutions post that I was going to be less frivolous with money, so I figured that if I put together items I really want, then I can treat myself to those, and those alone- hence saving money. Have I convinced you yet?
Anastasia Brow Wiz
The raving of this product by other beauty products hasn't passed me by. I'm in need of something that has a little more sticking power than a traditional powder. I've heard the Soap & Glory Archery Brow Pencil is a dupe but when I tried that out it seemed quite hard, so I'm hoping its not too similar as I think I'd prefer something a little more creamy. However I'll let you know how I got on.
Illamasqua Loose Powder
The Illamasqua powder is a repurchase, in fact this has lasted me a really long time. I've used it daily since October 2013 and it's only just starting to run out now. It's also a fabulous powder, hence why I'm repurchasing. Although slightly ambivalent in my original review I have really come to like this powder and definitely will miss it when I run out.
DHC Deep Cleansing Oil
This is another repurchase and another product I would highly recommend. It's such a good product for when you're feeling quite lazy about taking your makeup off, as I usually massage a couple of pumps into my face and then hop in the shower- no faffing. You can also read my original review here. I'm just about running out now but luckily it's on sale until the end of February so this will definitely will be purchased.
Maybelline Age Rewind Eraser Eye Concealer
This concealer is another one I've heard good things about. Although I have my trusty Nars Creamy Concealer and Seventeen Phwoarr Paint, I would like another creamy concealer and the added bonus of this one is that it helps with fine lines, which is something I have become aware of and am watching out for.
First Aid Beauty Facial Radiance Pads
I asked for these for Christmas and sadly didn't get them, so I'm looking at picking them up. I do like my Alpha H Liquid Gold but I'm looking for something else to use along side it and I think these facial pads are just the ticket.
Ren Radiance Perfection Serum
This year I'm focusing on hyperpigmentation, and one thing I'd like to add to my skincare routine is a vitamin C serum. Although I've never tried this one I've had a quick scout round and it seems to perform well according to numerous blogs.
What's on your shopping list this month?