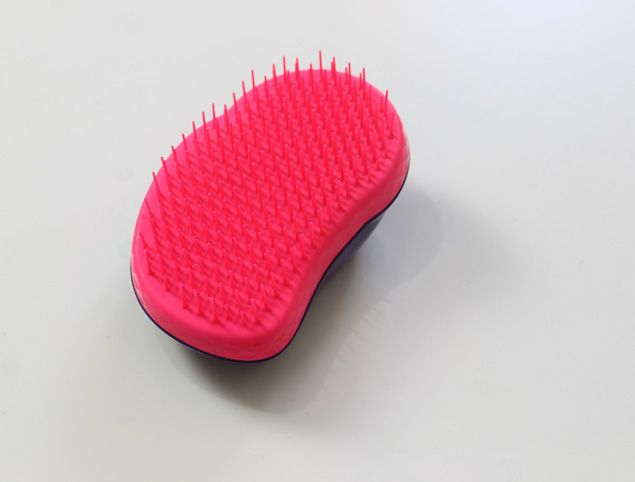 Tangle Teezer – £10.99
As a girl with fine hair I've been embroiled in a lifelong battle to stop my hair from becoming a tangled mess, simply from nipping out to the shops and getting caught in a crosswind.
I hate brushing my hair, simply because it gets so knotty. I get horrible knots at the nape of my neck when I wear it down and I don't even attempt to forgo conditioner if I want to get a brush through it it's a nightmare – sound familiar?
I was in the hairdressers last week and after she'd washed my hair she whipped out a Tangle Teezer. I was immediately fascinated as I'd heard good things about this revolutionary hair tool, but I'd never bought one myself as I was sceptical that it could ever possibly work on my ratty barnet. As she brushed through my hair with ease I was gobsmacked at how good it was. My hair hadn't been cut yet so would have still been relatively unmanageable but it just glided through my hair – no knots, no pulling, no eye watering. After 30 seconds she'd completely detangled my hair and I thought "what is this sorcery woman?!" I was that impressed with it I immediately went straight to Boots and bought one for myself.
I did wonder afterwards whether it was a fluke and her deft hairdressers hands had made light work of it, but sure enough when I tried it for myself on both wet and dry hair I got the same results. I'm actually reluctant now to use other hairbrushes because they just don't work as well they always snag my hair and hurt whereas the Tangle Teezer makes light work of it all. There weren't many colour options in Boots when I went and I think I would have preferred a plain black one but I quite like the one I picked up, at least I can always find it as it's that bright. I also thought I wouldn't really get on with the shape of it, but it's actually not too bad and as long as you don't try and hold it upside down it does fit in your hand quite snugly and not go flying across the room.
If you have fine hair you absolutely need the Tangle Teezer in your routine. It's probably the best hair tool I've ever bought. I promise it's worth every penny and I've all but sacked off every other brush in favour of this, it's that good!