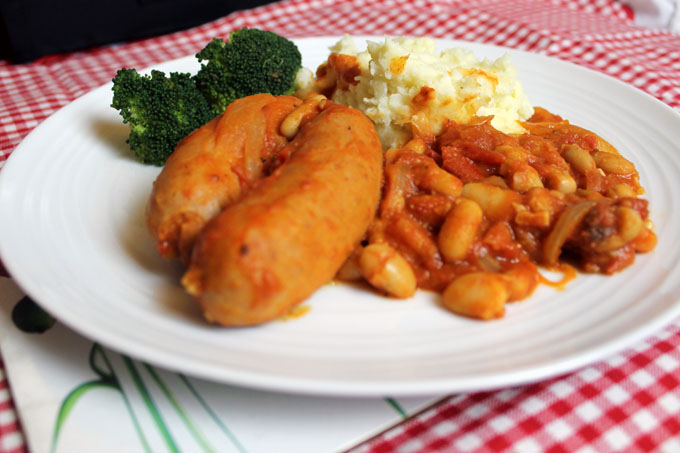 I cant quite believe it's come around to Bonfire night again already just where has this year gone? It's also the last day of National Sausage Week (30th October – 5th November) and what better what to end things with a bang than this deliciously spicy sausage casserole whilst watching fireworks, toasting marshmallows and drinking spiced cider!
The casserole has a lovely smokey flavour thanks to the paprika and I served it with some buttery mashed potato but this would go equally well with some crusty bread to mop up the spicy beany sauce.
In this recipe I used Grandad's sausages – a Bury based company who I actually worked with last year creating a sausage related recipe for Cider Glazed Bonfire Bangers.
This year they kindly sent me some spicy pork and chilli sausages which I've used in this dish. Like the ones I've tried previously they're a good fat size sausage with quite a fine texture. These have got a real kick to them which is sure to warm your cockles on a cold November night, but any spicy sausage will do or even ordinary ones just add a little bit of chilli powder to the sauce.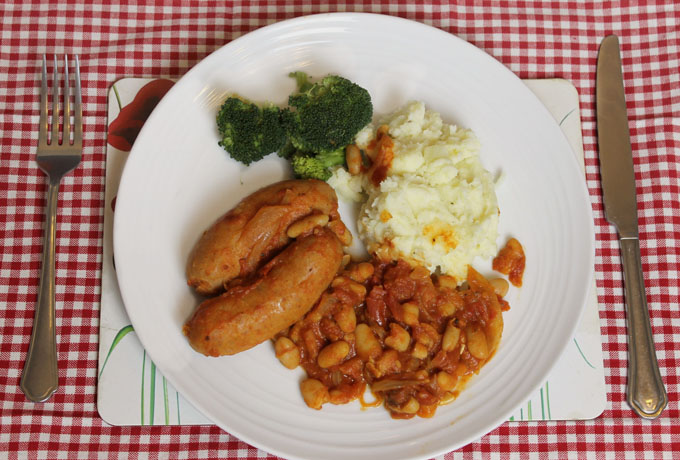 Winter Warming Sausage Casserole
Ingredients
1 large onion
1 clove garlic
6 sausages - spicy preferably
1 tsp smoked paprika
1 tsp paprika
½ tsp oregano
1 400g tin of cannelini beans
1 400g tin of chopped tomatoes
1 veg or chicken stock cube
Instructions
Add tsp oil to a heavy saucepan.
Slice the onion and cook for about 10 minutes or until softened.
Finely slice the garlic and add to the pan, and cook for about a minute
Brown the sausages then add the chopped tomatoes and cannelini beans.
Add the spices, stock cube and 250ml water.
Bring to the boil then simmer for 20-25 minutes.
Serve with green vegetables and creamy mashed potato or crusty bread
* PR Samples – All opinions and recipe are my own